Solvang Heritage Trail
Centennial Spotlight
Check out our Solvang Walking Map
August Theme: Cultural Diversity
The Solvang Conference & Visitors Bureau and the all-volunteer Solvang Centennial Committee are celebrating the 100th anniversary of the founding of Solvang in 1911 with a variety of themed events and activities throughout the year. "Cultural Diversity" is the emphasis for the month of August honoring the tapestry of native Chumash, Spanish, American and Danish cultures woven into the city's heritage.
Since 1974, Solvang's "theater under stars" has hosted culturally diverse performances, events and community activities—from PCPA Theaterfest to Halloween Haunted Houses, Nativity Pageant, and the recent Ozomatli world music concert. This community treasure will be the next star added to the city's emerging Heritage Trail. On Wednesday, August 17 at 2:30pm at the Solvang Festival Theater at 420 Second Street, the public is invited to join community leaders in dedicating this historical site with a festive program and complimentary refreshments.
Theater has always played a large part in Solvang's cultural life. From the town's earliest days, plays were performed in various locales. In September 1971, the Pacific Conservatory of the Performing Arts (PCPA) from Allan Hancock College was invited to put on a production during Danish Days. A makeshift stage was built in Solvang's Hans Christian Andersen Park and for three nights Hamlet enthralled a sold-out audience.
Led by innovative artistic director Donovan Marley, PCPA then offered to bring a series of plays to Solvang every summer if the community would build a theater. A committee of local business people including Earl Petersen and Royce Lewellen was formed, a site was found on Second Street, and funds were raised initially to lease the space and begin construction. On June 10, 1974, ground was broken for the new facility. A construction team headed by Erling Pohls and Johannes Jaeger was joined by almost every tradesman in the Valley, working seven days a week and sometimes as much as 16 hours a day. On July 26, 1974, a rejsegilde (topping out ceremony) was held as the tallest ridge beam was crowned with a wreath and people celebrated with singing, dancing, and eating. On August 7, 1974 the Solvang Festival Theater opened with the PCPA production of Once Upon a Mattress. This year—2011—marks the 47th season of PCPA Theaterfest in Solvang, the only professional resident theater company on the Central California coast. Between June and September, nights in Solvang sparkle under the stars with world-class theatrical productions in the 700-seat open-air Solvang Festival Theater.
During Solvang's centennial celebration, PCPA Theaterfest is presenting the American Premiere of "My Fairytale," a musical about the famous Dane, Hans Christian Andersen, created by Stephen Schwartz, the award-winning composer of "Godspell", "Pippin" and "Wicked." This exclusive engagement will preview in Santa Maria's Marian Theatre August 12 - 20, 2011, and then will preview under the stars in the Solvang Festival Theater on Friday, August 26, 2011, with the festive opening night on Saturday, August 27, 2011, playing through September 25, 2011. "My Fairytale" was first produced by Flemming Enevold as Mit Eventyr in 2005 as part of Denmark's bi-centennial celebration of Andersen's birth. This gorgeous new musical is both a delightful revelry in the stories from Andersen's imagination, an enlightening journey into the soul of the artist, and heartfelt celebration of the wonderful influence of the Danish spirit on the world, especially fitting during Solvang's 100th anniversary year.
Prior to the opening night performance on Saturday, August 27 there will be an Opening Night Celebration Reception from 5:30-7:00pm at Root 246 at the Hotel Corque, 420 Alisal Road. Appetizers and wine, an opportunity to meet the artistic team for "My Fairytale" including Stephen Schwartz, Flemming Enevold and director Scott Schwartz will be a highlight of the season. Reception tickets (a fund-raiser for PCPA and Solvang Centennial Committee) are $75 per person in advance (no tickets sold at the door). Admission to the performance of "My Fairytale"at the Solvang Festival Theater is a separate ticket. For complete info and to purchase both Reception and performance tickets: www.solvangusa.com or www.pcpa.org.
More Solvang events:
At Elverhoj Museum of History & Art on Sunday, July 31, meet the artist and celebrate the opening of "Danish By Design: The Art and Inspiration of Rick James Marzullo" from 4:00 to 6:00pm. The exhibit remains on display through October 30, 2011. Refreshments will be served; admission is free. Marzullo is best known for his intricate paper cuttings and has works in collections all over the world. His sought-after cuttings are for the most part in the Danish Folk tradition, and that's by design. Yet most don't know that he also works in a number of art mediums, and that he has designed for other artisans as well. The exhibition features his paintings in oil, acrylic and watercolors; paper cuttings (papirklip); ceramics; designs for stained glass, wrought iron, Danish folk costumes, and traditional Danish handwork and decorative arts. There will also be a special papirklip installation honoring the centennial of Solvang. Entitled "100 AAR - 100 BLOMSTER" (100 years, 100 flowers), the installation will span the large window wall in the Museum Gallery. The Museum is located at 1624 Elverhoy Way. Details: (805) 686-1211 or www.elverhoj.org
The 1804 National Historic Landmark Old Mission Santa Inés—nineteenth in the chain of 21 Catholic missions built along the coast of California during the 18th and 19th centuries; whose museum features Spanish artifacts as well as arrowheads, pottery, pestles and mortars used by the region's native Chumash Indians—will host its 40th annual Fiesta on Sunday, August 14 from 12:30-5:30pm at 1760 Mission Drive. Enjoy live music and entertainment, delicious foods, crafts and game booths for young and young at heart. Free admission with proceeds from food/crafts/games supporting the ongoing restoration of the Mission. Info: (805) 688-4815 or www.missionsantaines.org/events.html
During the day on Saturday, August 27 from 9:00am-3:0pm, feast your eyes on a uniquely American cultural love of motor-driven vehicles at the 7th annual Wheels 'n Windmills Car Show featuring classes of Hot Rod, Muscle Car, Roadster, Pro Street, Motorcycles and more will be displayed on First Street between Oak Street and Copenhagen Drive. Exhibition fee proceeds benefit Jonata Elementary school. (805) 688-6112 or www.wheelsnwindmills.com/
Bethania Lutheran Church at 603 Atterdag Road will host a Centennial Celebration Worship Service On Sunday, August 28 from 9:30-11:00am. Rev. Jarmo Tarki invites everyone to celebrate Solvang's 100th year and commemorate the first church service held in Solvang in 1911. Info: (805) 688-4637 or www.hwy246.net/users/bethania/
July Theme: Links to Denmark
To celebrate the 100th anniversary of the founding of Solvang in 1911, a variety of themed events and activities are being coordinated by the Solvang Conference & Visitors Bureau and the all-volunteer Solvang Centennial Committee. "Links to Denmark" is the focus for July honoring the cultural, social and artistic ties that join the Danish Capital of America to Denmark itself.
"Little Mermaid" to Be Dedicated on the Heritage Trail
To celebrate one of the most artistic and tangible links to Denmark in Solvang, the next site to be dedicated on the Solvang Heritage Trail will be honored on Wednesday, July 20, 2011, at 2:30pm: the beautiful "Little Mermaid" statue. The public is invited to join officials and gather at the corner of Mission Drive and Alisal Road (Denmarket Square) in front of the fountain featuring the 1:2 scale replica of the "Little Mermaid" bronze statue that resides in Copenhagen Harbor. Solvang's statue was installed in July 1976 by Earl Petersen, owner of Denmarket Square. Petersen learned of the existence of this replica and purchased it sight unseen with a phone call to the artist's family in Copenhagen. Petersen had the fountain built as a special showcase for the statue. This July marks its 35th anniversary in Solvang; and is the 26th anniversary of the statue being used as city of Solvang's official logo.
Solvang's "Little Mermaid" was fully authorized by heirs of its sculptor Edvard Eriksen (1876-1959), who created the original statue in 1913. The original Den Lille Havfrue (in Danish) was commissioned by Carl Jacobsen (his family founded Carlsberg Brewery), who was fascinated by the ballet based upon Hans Christian Andersen's fairytale "Little Mermaid" that was performed in Copenhagen's Royal Theatre. Andersen's "Little Mermaid," written in 1836 and first published in 1837, tells about a young mermaid who is willing to give up everything to gain an immortal soul and the love of a prince. The statue's head is said to be modeled after prima ballerina Ellen Price and the lithe body after the sculptor's wife, Eline Eriksen. The original size is only about 50 inches tall yet is very impressive in its location at Copenhagen Harbor's edge.
Solvang links to Denmark are embraced by local Danish cultural organizations that remain active including the Dania Lodge (formed in 1911); Danish Brotherhood (Lodge #299 formed in 1913; Solvang was host for this year's multi-state convention); Danish Sisterhood (formed in 1965); and the Rebild National Park Society- Solvang Chapter (the only Danish-American friendship organization with members on both sides of the Atlantic.) The on-going cultural exchange is embraced between Denmark's Embassy in the United States and the City of Solvang and local cultural organizations as well as the Danish Monarchy (as vividly evidenced by the June visit of Henrik, His Royal Highness The Prince Consort of Denmark and Peter Taksoe-Jensen, Denmark's Ambassador to the United States along with previous Royal Visits in 1936, 1960 and 1976). Since 1971, Solvang's sister city in Denmark is Aalborg, in North Jutland, boasting a population of more than 100,000, making it the fourth largest city in that country. The City of Solvang welcomed more than 30 students from Aalborg earlier this year—and will be hosting Aalborg's Mayor and famous Police Band during Danish Days in September—all promoting the educational, cultural and historic Solvang-Denmark links.
More July events:
On July 7 at 7:30pm, the public is invited to a free concert featuring The Thisted Church Choir of Men & Boys visiting from Thisted, Denmark. Formed in 1982, first as a purely boys choir, but expanded to include male voices in 1988, the 47-member choir will sing at Bethania Lutheran Church, 603 Atterdag Road. The choir, under the patronage of Her Royal Highness Crown Princess Mary of Denmark, sings at all morning services and evensongs in Thisted Church, and also gives a number of concerts around Denmark and worldwide under the direction of Conductor Preben Nørgaard Christensen. Info: www.hwy246.net/users/bethania/
At the Elverhoj Museum of History & Art, through July 24, enjoy the mosaics, sculpture and glasswork of artist Helle Scharling-Todd—with a free Gallery Talk on July 14 at 7:30pm. On July 31, celebrate the opening of "Danish By Design: The Art and Inspiration of Rick James Marzullo" from 4:00 to 6:00pm. Refreshments will be served; admission is free. The exhibit will remain on display through October 30, 2011. The Museum is located at 1624 Elverhoy Way. Details: (805) 686-1211 or www.elverhoj.org
Don't Miss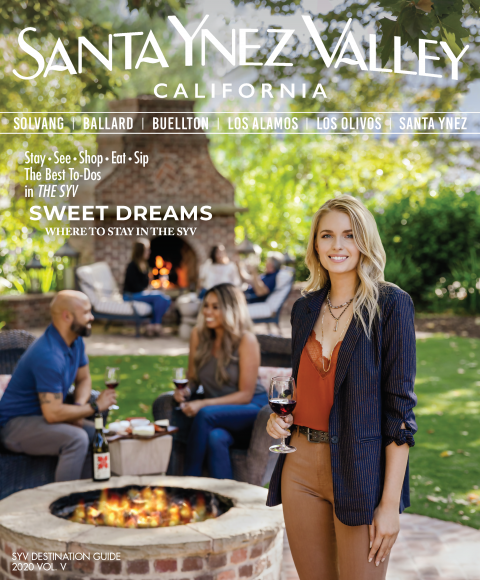 View the 2020 digital Santa Ynez Valley Destination Guide Online!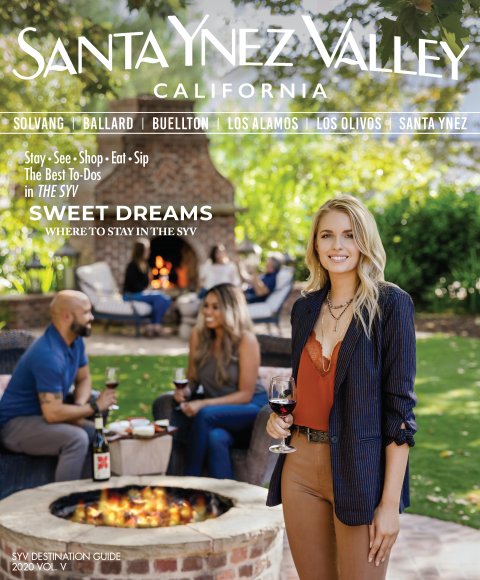 View our online Solvang Visitor Guide. Santa Barbara County Wine Country, California, in the Santa Ynez Valley.
Related Video