Exploring the Santa Ynez Valley
Situated just a mile from the intersection of State Highways 154 and 246, Santa Ynez celebrates the area's western heritage.
The Santa Ynez Valley Historical Society Museum & Parks-Janeway Carriage House, founded in 1961, has eight fascinating rooms of memorabilia from Chumash Indians through 20th-century ranching days and contains the largest collection of horse-drawn vehicles and accessories west of the Mississippi (Sagunto and Faraday Streets, 688-7889). This turn-ofthe- 20th-century style village serves modern trail riders at a historic saloon, signature restaurants, a luxury inn and a bed & breakfast. Old Santa Ynez Day each June includes a street fair, a parade and country-western entertainment.At the intersection of State Highway 154 and Grand Avenue, the community of Los Olivos offers an authentic slice of Americana with numerous art galleries, boutiques, more than a dozen wine-tasting rooms, a top-notch inn and cafés from casual to gourmet.
Wildling Art Museum, located at 1511-B Mission Drive, is an educational institution dedicated to presenting American wilderness art. The museum offers four exhibitions annually, as well as nature-related art classes, field trips and lectures (2329 Jonata Street, 688-1082).
Los Olivos (Spanish for "the olives") celebrates its namesake fruit each June with the Olive & Jazz Festival.
Los Alamos (Spanish for "the cottonwoods"), at the junction of US Highway 101 and State Highway 135, has an oldtime western feel to the seven-block-long main thoroughfare offering an antique mall in an historic train depot, quaint shops, several restaurants and wine-tasting rooms, an 1880s hotel and two motels. Each September, Los Alamos Old Days honors the town's founding in 1876 with a weekend- long celebration.
The bustling gateway city of Buellton is conveniently located at the intersection of US Highway 101 and State Highway 246 with "everything for the traveler"-from a full-service resort hotel to inns, motels, a variety of shops, service stations and dining venues. It is known as the "Home of Split Pea Soup" courtesy of Pea Soup Andersen's Restaurant, established here in 1924. Buellton's original Pacific Coast Highway route is now Avenue of the Flags, an attractive parkway hosting many community events.
Charming rural Ballard, located between Santa Ynez and Los Olivos on Baseline Road, is home to a little red schoolhouse holding classes since 1883, as well as churches, studios and an award-winning inn and wine-tasting room.
Los Padres National Forest Encircled by Los Padres National Forest and the Santa Ynez and San Rafael mountain ranges, Santa Ynez Valley includes six distinctive communities-Ballard, Buellton, Los Alamos, Los Olivos, Santa Ynez and Solvang.
The name "Santa Ynez" derives from Old Mission Santa Inés, the first Spanish settlement in the area. Prior to the arrival of European settlers, Native American Chumash resided in Santa Ynez Valley for thousands of years. Today, members of the Santa Ynez Band of Chumash Indians have a federally recognized 137-acre reservation adjoining the village of Santa Ynez, including the Chumash Casino Resort & Spa.
if(!in_array('110', explode('|', '-1|20|255|147'))): ?>
Also in This Section
endif; ?>
Don't Miss
View our online Solvang Visitor Guide. Santa Barbara County Wine Country, California, in the Santa Ynez Valley.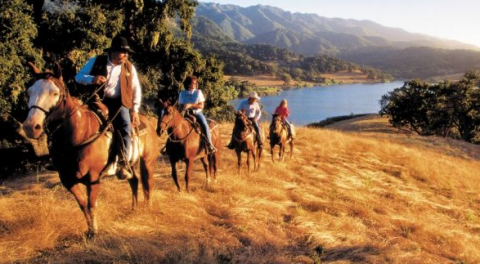 Bring your group to Santa Ynez Valley Wine Country. Solvang is ideally suited for weddings, reunions, VIP conferences and much, much more!