Nashville Nights
Next Upcoming Date:
Monday, September 28 2020
A benefit concert for the Solvang Friendship House
Location: Solvang Theatrefest
Time: 6:00 PM to 10:00 PM
420 2nd St. Solvang, CA 93463 Solvang, CA
Friendship House invites the community to attend Nashville Nights, voted the Valley's "Best Musical Event"! The evening promises to be a magical night of music, stories, great food, fun and a fabulous silent and live auction.
Local Country musicians and award winning Songwriters from Nashville will join together for the 17th annual Nashville Nights benefit to be held at the Solvang Festival Theater on September 28, 2019. Proceeds will go to the Friendship House, providing residential care and senior day care to the elderly in the Santa Ynez Valley, specializing in Alzheimer's disease care.
Singer/Songwriters will perform their original music under the stars in an intimate, acoustic setting which allows the audience to take a look inside their hearts and thought process behind writing their songs. The night of entertainment will feature Award Winning Nashville Songwriters, the show opens at 6:00 pm.
Gates will open at 4:30 pm for a BBQ by the Hitching Post and courtyard performance by Bear Redell
Please note: No outside food or drink will be allowed.
805-686-1789
This is an accessible event
Visit our website
Buy Tickets
Add To Itinerary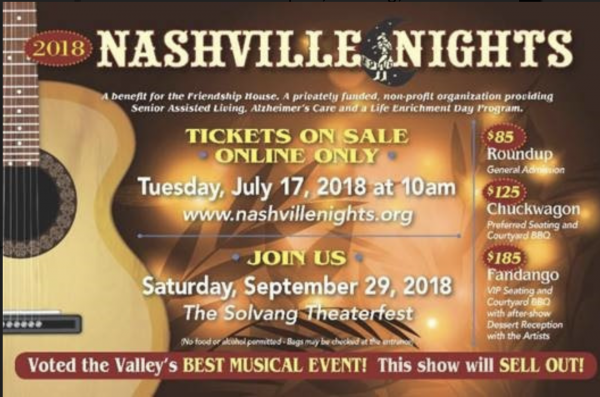 Upcoming Dates:
Monday, September 28
Tuesday, September 28 2021
Wednesday, September 28 2022
Thursday, September 28 2023