Time to Tee Off!
Spring has sprung and there are more hours of daylight—so plenty of time for you and/or someone you know to get out and play more golf (just like they're doing this week in Augusta at the Masters Tournament–I've actually attended five times and it is magnificent there—yet here we can play year-round—so much better!)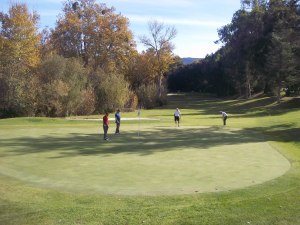 So get ready to shout "fore" in style at some magnificent courses that are even lusher now that the drought has abated. Surrounded by rolling hills, ranches and vineyards, our local golf courses definitely have some great scenery to enhance your play time.
Just five minutes from downtown Solvang, The River Course at The Alisal is situated on the banks of the Santa Ynez River against a backdrop of the Santa Ynez Mountains, and was prominently featured in the 2004 Oscar-winning movie Sideways; plus the River Terrace overlooking the course is a delicious place for breakfast and/or lunch. In the nearby Santa Rita Hills wine country west of Buellton, check out La Purisima Golf Course created by world-renowned course architect Robert Muir in 1986 on 309 acres. Zaca Creek Golf Course is a sweet 9-hole, par-29 public course in Buellton. Rancho San Marcos gracefully saddles the natural topography meandering amid a plethora of ancient oaks just 30 minutes away down Scenic Highway 154. For complete details on where to tee off, visit http://www.solvangusa.com/explore-solvang/what-to-do/golf/
About the Author
Laura Kath
Laura is an author of 19 non-fiction books including Fun with the Family in Southern California. She has lived in the "Golden State" since 1985 and has had her own marketing consulting firm since 1989. Laura proudly serves as the Media Relations Director of Solvang Conference & Visitors Bureau and resident blogger for the Santa Ynez Valley community known as "California's Denmark."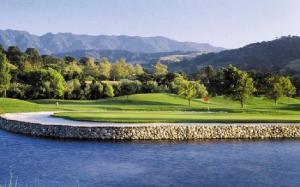 Also in the Blog