Sunday Jazz & Art in Solvang Park Debuts 10/1/17
Starting this Sunday, October 1st, you & yours can enjoy a new series of FREE, live jazz concerts in Solvang Park (Mission Drive & First Street) for the entire month!
Make plans now to spend from Noon-2pm savoring jazz tunes performed on the gazebo stage from Noon-2pm AND browse local arts and crafts booths, too, throughout the park between 10am-2pm. The Santa Ynez Valley Jazz Band will open and close this new series of five, free outdoor performances. Sponsored by the Solvang Chamber of Commerce, you can pick up refreshments from nearby bakeries and restaurants; bring your blankets, lawn chairs and enjoy the lovely autumn weather! What a relaxing way to savor your Sunday! Here's the entire schedule! http://www.solvangusa.com/events/jazz-in-the-gazebo/
About the Author
Laura Kath
Laura is an author of 19 non-fiction books including Fun with the Family in Southern California. She has lived in the "Golden State" since 1985 and has had her own marketing consulting firm since 1989. Laura proudly serves as the Media Relations Director of Solvang Conference & Visitors Bureau and resident blogger for the Santa Ynez Valley community known as "California's Denmark."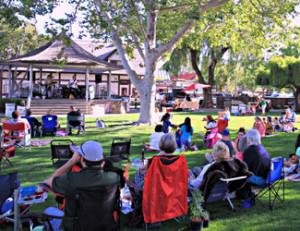 Also in the Blog
Featured Partners
Picnics are popular in Solvang Park. This is the center of…
Featured Content
The past is still celebrated today in the museums, art…