2018 Julefest Tree-Lighting, Parade & Santa, Oh My!
There's so much happening this month for Solvang Julefest--here's the what you need to know right now!

This Friday (12/7/18) from 5-6:30pm, you and your family are invited to join the festivities in Solvang Park at the 20-foot "drought-resistant" LED Community Tree-Lighting during a free ceremony featuring caroling, live entertainment and dancing ballerinas. Plus, you definitely need to experience the Julefest Parade this Saturday (12/8/18) at 11am with 400+ participants marching, rolling, trotting and strolling thru downtown Solvang--starting at the Vets Hall heading west along festively decorated Mission Drive; south on Fourth Place then east on Copenhagen Drive back to Alisal Road and Old Mission Santa Ines. And yes, I'm really looking forward to announcing the Julefest parade again for the 12th time!
Plus, there will be free visits with Santa in Solvang Park (Mission Drive & First Street) after the parade and it's first come, first seated with the jolly old elf. Be sure to bring your camera to capture the moments! Click here for his Solvang schedule for December per message from the North Pole!
More 2018 Solvang Julefest highlights include the free Nisse Adventure treasure hunt (12/1/18-1/6/19); Candlelight Tours (12/8, 15, 22); Shop, Mingle & Jingle Weekends with free live entertinament; the delight-filled Wine & Beer Walk "Skål Stroll!" (12/15-16/18); and free Live Nativity Pageant at Solvang Festival Theater (12/15); and concluding with the Christmas Tree Burn Safety Demo at Old Mission Santa Ines (1/4/19). All
Solvang Julefest events are open to the public with FREE admission (except Julefest Wine & Beer Walk). For more info, please call 805-688-6144; stop by the Solvang Visitors Center at 1639 Copenhagen Drive (open daily 9:00 a.m. to 5:00 p.m.) or visit www.SolvangUSA.com/julefest Merry Merry Jingle Jingle!
About the Author
Laura Kath
Laura is an author of 19 non-fiction books including Fun with the Family in Southern California. She has lived in the "Golden State" since 1985 and has had her own marketing consulting firm since 1989. Laura proudly serves as the Media Relations Director of Solvang Conference & Visitors Bureau and resident blogger for the Santa Ynez Valley community known as "California's Denmark."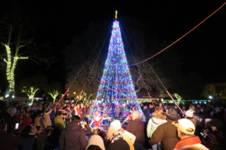 Also in the Blog