Solvang Welcomes 32nd Annual Datsun Roadster Classic Show + Sidewalk Sales!
VROOM! Solvang Datsun Roadster Classic Rolls Into Town on Saturday, April 27, 2019
Do you or someone you know like vintage vehicles? If so, you're in luck since it's time for the 32nd annual Solvang Datsun Roadster Classic Show--happening this Saturday, 4/27/19 from 9:30am-3pm in downtown Solvang. More than 100 of these beauties will be on display on First Street across from Solvang Park. It's free –so come admire these cars and chat up the owners and other auto afficianados. Since 1988, this gathering has become one of the most sought-after Datsun Roadster shows by enthusiasts around the nation. Make plans now to wander around downtown Solvang this Saturday (and of course, stroll & shop & eat & wine & beer taste, too!) and see how these vehicles and their owners proudly shine! For more details, visit http://solvangroadstershow.wordpress.com/ AND here's something new, Solvang Spring Sidewalk Sales will be happening all around town, too, so you can get your VROOM on and your retail therapy all in one place!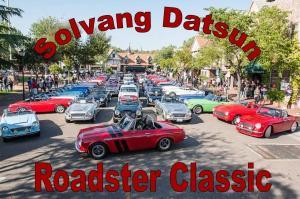 Also in the Blog